About Us
The Guardians Of Your Smile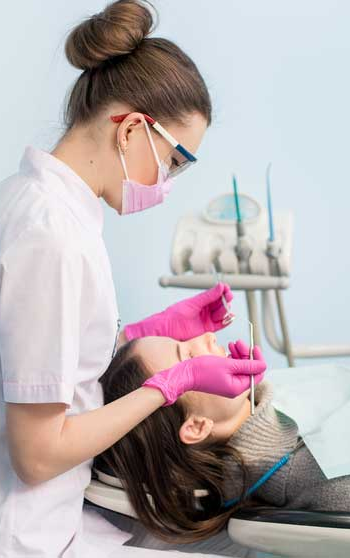 Taking Care Of Your Smile
As highly qualified specialists in state-of-the-art dentistry, ODC's goals are excellence and caring.
We invite you to discover who we are, our clinic and our services through this site and hope it may contain the answers to any questions you may have about us.
Accredited Services
Osman Dental Clinic offers dental care services with American standards. Our specialists obtained their post-graduate degrees from the United States, and they're highly qualified in utilizing state-of-the-art equipment to provide patients with optimum quality.
Latest Technology
Our team utilizes the latest tools and techniques to deliver dental care services with global standards.
Certified Experts
Osman Dental Clinic gathers experienced consultants with post-graduate degrees from the United States. All of them are highly skilled in utilizing state-of-the-art equipment.
Our philosophy is that the patient comes first and foremost.
We aim to:
Provide the highest quality dental service
Spend one-on-one time with you
Provide an individualized treatment
Provide the kind of care that we would expect for ourselves and our families
Philosophy
We believe that the key to successful treatment is a comprehensive understanding of a patient's individual needs and problem areas.
This understanding allows us to customize treatment plans that ensure optimal quality of care.
We also believe that the best dental practice should treat the mouth in such a way that the remaining structures can be preserved.
This means establishing a smile that enhances the health, appearance, comfort and self-esteem of all our patients.
Initial Visit
Many of our patients are referred for consultation by their family dentists or friends who recognize that sometimes certain treatments are better served by specialists.
Each individual's needs are unique and deserve personalized care and attention.
The initial examination will also provide the opportunity to ask questions or express any concerns you may have about treatment.
The initial 20-30 minute appointment consists of a comprehensive oral examination with one of our specialists.

This exam will depend on the reasons for your visit, whether it is for orthodontics (braces), prosthodontics (crowns, bridges, dentures, etc.), restorative & cosmetic dentistry (fillings, veneers, bleaching, etc) or periodontics (gums & bone).
An individualized treatment plan is outlined with each stage evaluated according to rigid standards before proceeding.
Clinic Branches
Each of our three clinic branches ( Katameya, Maadi and Zayed) are designed to provide efficient, high-quality care and were designed to enhance patient privacy by containing both private and semi-private rooms.
They are all comfortably furnished, clean and offer a sophisticated, calming atmosphere